Ensuring that your property is correctly insured is essential, as failure to do so can be problematic and costly in the event of an insurance claim. By over-insuring your building, your business could be losing a substantial amount of money on unnecessary cover, while under-insuring the premises could affect claim settlement.
WHAT IS A REINSTATEMENT COST ASSESSMENT?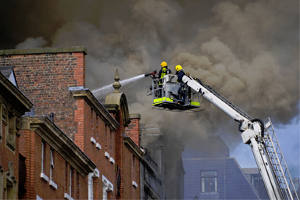 The reinstatement cost of a building refers to how much it would cost to rebuild the entire building from scratch in the event of catastrophic damage. In order to provide insurance coverage for the premises, almost all insurance providers will require a reinstatement cost assessment to be carried out by a qualified professional.
Calculating the reinstatement cost of a building is a highly technical and complex process, but accuracy is vital for ensuring that the building is appropriately insured.
Hiring an accredited surveyor is the best way to make sure you receive a reliable and consistent service, and to make sure that your business doesn't suffer financially due to over-priced premiums or insufficient coverage.
WHY SHOULD I ARRANGE A REINSTATEMENT COST ASSESSMENT?
It's vital that your building is properly insured. If you fail to obtain adequate coverage for your building, your insurer may refuse to pay out the total insurance value under the "Condition of Average". For example, if the reinstatement cost of the property is valued at £800,000 but it is only covered up to £600,000 (three-quarters of its worth), your insurance providers may only reimburse you £450,000 (three quarters).
Even if you have had a reinstatement cost assessment carried out in the past, these can become out of date within a few years. Insurance companies generally index link rebuilding costs year on year, which can distort figures compared to true reconstruction values. The Royal Institution of Chartered Surveyors (RICS) recommends that reinstatement costs are reviewed annually with a desktop assessment, and a full evaluation is carried out every 3 years, or when significant changes are made to the building.
REINSTATEMENT COST ASSESSMENTS IN SUSSEX & SURREY
At Tim Greenwood & Associates, we carry out reinstatement cost assessments of commercial premises all across Sussex and Surrey. All of our inspections and cost assessments are undertaken in accordance with the guidelines set out by RICS, and as long as no alterations are made to your building, we can perform periodical desktop reviews to ensure that your insurance reflects the most up-to-date rebuilding costs.
For more information or to arrange a reinstatement cost assessment on a commercial building in Woking, Guildford, Crawley, Worthing, Brighton or any of the surrounding areas, get in touch with us today by calling our office on 01737 829070 or by completing the form on our contact us page.