ALBERT HALL MANSIONS – GOODS LIFT RESTORATION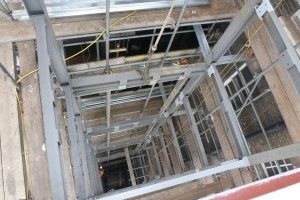 Overview
---
Sector
Service
Location
Instruction Details
Tim Greenwood & Associates (TGA) were appointed to act on behalf of the Right to Manage Company of Block 5, Albert Hall Mansions to undertake a feasibility study of the refurbishment and/or replacement of the 40-year old goods lift. The performance of the goods lift was erratic, the lift car was small and not fit for purpose.
Working with lift consultants, Gerald Honey Partnership, TGA advised on the replacement of the goods lift and shaft. This included obtaining Planning and Listed Building Consent for the new shaft and lift car which was almost four times the size of the original installation. Following the success of the Listed Building and Planning applications, TGA prepared specifications and obtained tenders for the removal of the existing goods lift car and shaft and construction of the new installation.
Tim acted as Lead Consultant and Project Manager, as well as Contract Administrator coordinating structural engineers, lift consultants and environmental engineers, who advised on the removal of asbestos within the original shaft.
Tim also successfully negotiated and agreed use of part of a neighbouring site to provide space for the contractors' site accommodation and storage.
Once complete the new goods lift car will be temporarily be put into use as a passenger lift, enabling refurbishment of the existing passenger lift, landing entrances, equipment and controls.
The overall budget for this project is £650,000.
For further information please contact Tim Greenwood (timgreenwood@tg-a.co.uk, tel: 01737 829070)